Topic RSS
L♥VE through the Eyes of an Idiot
June 26, 2009 - 4:29 pm
Member Since: April 23, 2009
Forum Posts: 27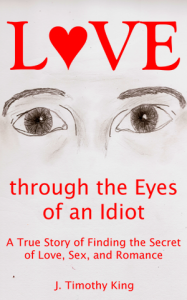 Just checking in. I was away for about a month, because I was working at breakneck speed on a small memoir, entitled Love through the Eyes of an Idiot, about my teenage search for the secret of love. I wanted to finish writing it before I turned 40 on June 20. Made it, too. Typeset the manuscript, sent it to the printers', and ordered advanced copies (which arrived a couple days ago). And as a result, I turned 40 feeling that I had accomplished something significant.
Here are some short anecdotes I recorded to promote the book. The thing is, I say "idiot" a little tongue-in-cheek. Yeah, I grew up with my own brand of idiocy, but we're all idiots when we try something new. In my case, at least the story had a happy ending.
-TimK
Steerpike
Subtropical Southeastern Michigan
June 26, 2009 - 10:03 pm
Member Since: April 10, 2009
Forum Posts: 3309
Congratulations on your new book, Tim - I have and enjoyed your earlier work - and look forward to grabbing a copy of this new memior! Accomplishing something like that is well worth your pride.
Congrats also on your courageous promotional videos. Let's hope they garner your work the attention it deserves. 🙂
Life is the misery we endure between disappointments.
Forum Timezone:
America/Detroit
Most Users Ever Online: 194
Currently Online:
7 Guest(s)
Currently Browsing this Page:
1 Guest(s)
Top Posters:
Spike: 1187
Pokey: 894
Jarrod: 607
Finkbug: 468
Armand: 318
kaythomas: 307
Member Stats:
Guest Posters: 9
Members: 14380
Moderators: 18
Admins: 6
Forum Stats:
Groups: 1
Forums: 4
Topics: 814
Posts: 18537
Newest Members:
d8d8d8, xxxxxx, hydyasoni020, hydyasoni02, Matildaly, AprilOls26
Moderators: Jen: 631, Orb: 0, Scout: 1205, Toger: 1488, Yapette: 836, Dobralov: 17, xtal: 1683, Meho: 82, Tap-Repeatedly: 0, geggis: 1435, Lewis B: 214, Mat: 245, AJLange: 200, Dix: 483, Cheeta: 0, LewisB: 0, Amy Louise: 12, l0vetemper: 3
Administrators: admin: 2, MrLipid: 31, Steerpike: 3309, Helmut: 795, Synonamess Botch: 1125, heddhunter: 27